This week our client the Digital Marketing Institute continued in its quest to bridge the gap between the digital skills shortage and the provision of expert digital education.
The company launched its '180 days to a digital career' campaign to promote of its new Postgraduate Diploma in Digital Marketing summer course. The full time course offers 3 months of expert tuition and a 3 month internship in a digital marketing role.
Some coverage of the course achieved included pieces in the Irish Independent, businessworld.ie and siliconrepublic.
Speaking of the digital skills gap Ian Dodson, CEO of the Digital Marketing Institute said: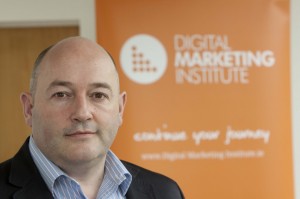 Ian Dodson, CEO of the DMI
"The war for digital talent is one of the biggest challenges businesses in Ireland face as demand for qualified and experienced people far outstrips supply. The very pointed message that we are receiving from the industry is that there is a significant skills gap. As the shift to digital continues apace, organisations are needing to adapt fast and are crying out for intelligent, skilled digital marketing professionals."
Fast-Tracking Students to Full-Time Employment
The course aims to help address this problem and fast-track graduates and professionals into the full-employment digital marketing arena.
It is aimed at graduates, as well as marketing and business professionals, looking to reskill or improve on their existing skill set. To cater for the thousands of graduates leaving third level education in the coming weeks the course is being run full time over the summer months, starting on June 10th.
"Our goal is to match the best-qualified recruits with employers' needs to the benefit of both," says Dodson. "Not only will course graduates be for the abundance of digital marketing job vacancies, businesses will also have access to candidates with the most up-to-date digital marketing skills and knowledge available."
Digital Marketing One of Few Industries with More Jobs than Qualified Candidates
Some key stats on the digital job sector include:
- 900,000 unfilled digital jobs across Europe by 2015
The European Commission has predicted that a shortfall of trained digital professionals could leave up to 900,000 jobs unfilled in the next two years. .
– Digital – a key area of focus in 2013 for 57% of Irish marketing professionals
Surpassing Above-the-Line (ATL) communications for the first time, the Alternatives Digital Market Watch survey revealed that Digital would be the key area of focus marketing professionals in 2013.
– People and skills issues amongst top 3 issues faced by marketers
The same surey reveals that of the top 3 issues marketers face in achieving their objectives, people and skills issues came third after the economy and budgets.

- 18,000 new digital jobs in Ireland by 2016
Amárach Research predicts massive jobs growth in the sector, and that web-related businesses will be contributing €11.3bn to the Irish economy annually by this date.
– 13% increase in digital marketing spend
PricewaterhouseCoopers (PwC) found Irish marketing budgets were being dramatically restructured in favour of digital channels in the first six months of last year.
– Online accounts for 21% of global advertising spend
According to a report from GroupM, digital advertising spend reached $99bn worldwide in 2012, a 16.2% increase year-on-year. This figure is predicted to grow by 14.6% to $113.5bn in 2013.
Dodson sees no slow down in the demand for knowledgeable and experienced digital marketing professionals in Ireland and stresses that education needs to adapt to meet this demand:
"It is important that Ireland does not become complacent – the country has made enormous positive steps in attracting multinational digital companies and the government is to be commended for this. However it must do more to push the digital agenda in third level institutions, postgrad teaching and continual professional development."
Open Evenings for the Digital Marketing Institute course will take place on April 22nd and April 30th in the Chartered Accountants House, Dublin 2 at 5.30pm.
For more information on the course visit: www.180days.ie
Course Details:
The Postgraduate Diploma in Digital Marketing is a practical digital marketing course, taught by leading digital marketing practitioners. Students will learn how to engage with customers online in a more practical way and improve lead generation and how to use the internet as an effective marketing channel.
Topics covered: Search Marketing including SEO & PPC; Social Media Marketing, Mobile Marketing as well as Digital Display, Ecommerce, Email, Web Analytics and campaign planning and management.
Start Date: June 10th 2013
Duration: 6 months – 3 month classroom training + 3 month internship
Place: Panoz Institute, Trinity College Dublin
Structure: Mon – Thurs 9.30am – 12.30pm Lectures,
Afternoons & Fridays – Research & Study
2  Full Day Workshops are included
Cost: €4,970