Irish Times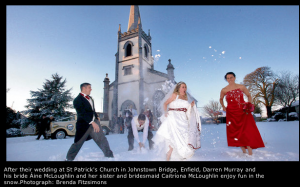 The Grand Canal Theatre has reported substantial profits since opening in March this year – Gordon Deegan. http://tinyurl.com/32rqlem
Laura Slattery on the rising price of cotton and the implications for the clothing retail trade. http://tinyurl.com/2u97hzx
VENDORSHOP, a Dublin-based firm with a Facebook plug-in that allows users to set up a shop on the social networking site free of charge and start selling within minutes, has 10,000 businesses worldwide using its software – Marie Boran. http://tinyurl.com/3xtgsy6
European data centre Interxion has announced plans to expand its recently opened Dublin 2 data centre. http://tinyurl.com/38624gc
Ciara O'Brien gives a run down on the top tech gifts for 2010 including the HTC Desire, the Macbook Air and the Kinect for the Xbox. http://tinyurl.com/36r5ta3
Irish Examiner
One in three young people aged between 18-24 are planning to emigrate in the next 12 months, a survey by the Irish Examiner has found – Niamh Hennessy. http://tinyurl.com/38jobb7
Without government aid and intervention Ireland would have the worst rate of child poverty among the world's richest nations, a study by UNICEF has found – Juno McEnroe. http://tinyurl.com/2vmzo99
Asavie Technologies, whose headquarters are in Dublin, has announced an agreement with Telefonica to offer connectivity solutions to the operator's business customers.
My Job this week features an interview with David Healy, Vice President of Sun Life Financial's USA service division – John Daly.
Ireland's first online medical directory will be officially launched in Dublin next Monday. GP Buddy.ie is a search engine of medical healthcare professionals for GPs, whose aim is to bring a more efficient service to patients – Mark Twomey.
Almost a third of Irish companies have no data-protection controls in place, which could lead to significant fines from the Data Protection Commissioner. A survey by Dublin-based IT services company, Origina, found that 37% don't know how long data should be retained, while 65% don't even know the types of data they are storing – Joe Dermody.