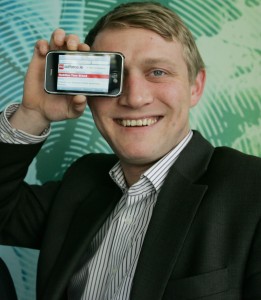 Ireland's leading mobile ad network, Adforce, yesterday announced that it has expanded its offering to advertisers in Ireland. With reports this week showing double-digit growth globally* for mobile advertising in the past three months, Adforce unveiled seven new additions to its network.
Mobile websites and applications for RTE Radio and Communicorp, as well as a selection of Northern Irish mobile applications, will now be represented by Adforce.   Advertising across multiple platforms is also available, including the recently launched Android and iPad app for Today FM and Newstalk.
With these additions advertisers can reach a wider group of mobile users across multiple platforms on high-traffic mobile websites and applications.
According to Gartner, by 2013 mobile phones will overtake PCs as the most common web access device worldwide. With over 5 million mobile phone subscriptions in Ireland, mobile is now considered an essential part of a brand's advertising mix.
Commenting on the demand for mobile advertising, Kevin Foley of Adforce said: "Mobile is a now an essential go-to medium for advertisers.  We're seeing more and more big brand names embrace the mobile medium.  This month alone over 20 campaigns are running on our network from brands such as Heineken, 3 Mobile, Guinness, Bord Gais, Paddy Power and UCD."
Foley adds that Adforce has a unique proposition for advertisers in Ireland: "Adforce's expanded network offers a highly effective means to reach thousands of mobile users across different platforms including the increasingly popular Android.  We are in a very unique position to deliver effective campaigns that exceed our advertisers' goals and deliver a very strong return on investment for their clients."
Alongside mobile websites for Vodafone, RTE and Meteor as well as the popular RTE News Now applications, websites and apps now part of the Adforce network include:
- RTE Radio Websites and Apps for 2FM, RTE Radio 1, RTE's Pocket Player app.
- Communicorp websites and apps for 98FM, Today FM, Newstalk and Spin 103.8
- Northern Irish mobile applications for Independent News and Media including: propertynews, jobfinderni and carfinderni for independent news and media
- Popular dining out mobile website menupages.ie and Georgina Campbell's Ireland Guide App
Following some recently signed partnership deals with a number of leading ad technology providers in Europe and the US, Adforce will now offer the latest in rich media ad formats.
"As well as offering the most comprehensive mobile network on the Irish market our aim is to also provide advertisers with the very latest in ad formats.  We're already seeing advertisers employing rich media as phones become better equipped to support advanced capabilities like streaming video. These types of ad formats are more interesting to the consumer leading to greater click-through rates and, thus, more success for a brand's mobile advertising campaign."
Media Contact:
Bernice Burnside, Bvisible Communications
353-1- 845 2401
* http://www.buzzcity.com/f/reports
About Adforce
Established in 2009, Adforce operates Ireland's only multi-platform advertising network.  It provides a single point of contact for media agencies and brands wishing to buy advertising across mobile internet websites, mobile applications, social media platforms  and digital video.   The network includes a number of the most visited mobile Internet websites and applications in the Republic and Northern of Ireland.
For publishers Adforce offers a sales arm to ensure their sites and apps are part of a brand's advertising budget
Adforce is part of the Irish digital communications company Digital Reach Group (DRG). More information can be found at www.adforce.ie