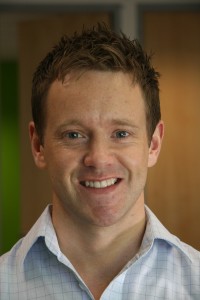 Robert Carry is a journalist with JOE.ie, Ireland's first men's lifestyle website. First launched in April 2010, it attracts more than 200,000 visitors a month. It has featured interviews with Bruce Willis, Ben Stiller and covered stories on everything from the bull run in Pamplona to the struggle for democracy in Burma. Robert's CV  includes freelance work for The Irish Daily Star, The Irish Sun, The Irish Echo and The Sunday Tribune along with slots on RTE News, BBC Radio Northern Ireland, i102, Newstalk, 98FM and Spin 103.8. He is also currently writing his first book about Irish people who have been jailed abroad. Robert talks to us about writing for online media and how having a few extra strings to your bow can sharpen your competitive edge in the media world.

What is your media background?
I did a Masters in Journalism in DIT after completing a degree in history and politics in UCD. I got my first full-time position with the Dublin-based multicultural newspaper, Metro Eireann. I worked there for about a year, writing mostly sport and general news.
I decided I wanted to have a go at working abroad so I took a job with a property magazine in Bangkok. I stayed there for just short of a year before taking a similar position in Sydney. I came home not long before JOE.ie was coming together and was delighted to grab one of the editorial slots.
Writing for a men's online magazine, are you living the journalism dream?
Journalism generally involves spending a lot of time at your desk and it's no different for us. That said, working with JOE.ie over the past six months has involved going on the Bull Run in Spain, flying to London to test the new Wilkinson Sword shaving system, going undercover at a swingers' party in Dublin, reporting from the Red Shirt protests in Bangkok, going to the Jackass 3D premier with Johnny Knoxville and friends…it has really had its moments.
We write about a wide range of subjects here so it never gets boring and, since I've been here from the start, there has been a lot of satisfaction in seeing the website do so well. There's also a really great bunch of guys here of a similar age and with similar interests, so the time spent in the office is enjoyable in itself.
What kinds of stories get the best response on JOE.ie?
Sport stories, in particular football and mixed martial arts, do really well. There's also a lot of interest in the health and fitness section and tech and entertainment, however, there isn't really any section that is being left in the dust. They're all attracting their fair share of visitors.
Do you think that the male media appetite is well served in Ireland or is there a need for more, blogs, websites, magazines, etc.?
To be honest, I was amazed that nobody had thought to put together a quality website catering specifically to Irish men before. The Star has a supplement called A-Men but that's pretty much the extent of it at the moment. I think there is always room for more but the market has been made a bit tighter since we launched.
Do you think that eventually we will consume all of our news, features, etc. online or will there always be a place for the print media?
I think the print media will continue to exist in some form, but there is a reason why the big publications are placing more emphasis on their online presence –it's where all the readers are. We had 17,000 people come to our site yesterday, for example.
A disproportionately small chunk of ad budget is going into online advertising in Ireland. We're a bit behind the times in that regard but we will catch up with global trends soon enough, I'm sure. When advertisers start putting their money into online exposure rather than print, I would guess that we'll see a big contraction in the number and popularity of print publications.
How much of your work involves dealing with PR companies?
Quite a bit of it, actually. We've spent time building a working relationship with various PR companies in Ireland and abroad, and at this stage we've established ourselves as an outlet that they speak to when they want to reach Irish men.
How do you find these interactions?
They vary. Not all PR people are up to the same standard. We've had PR people put us onto a generic database and start sending us press releases about baby clothes and things like that. It's a shame because when that starts happening, emails from that source will be dumped without being read and we could miss something that is relevant to our readers.
On the whole, though, the standard in Ireland is quite high. Most are very conscious of the fact that it's about lining up the product/event to the right outlet and of course, developing a good working relationship. It's a small market here so you find yourself dealing with the same people on a number of different stories and the relationship aspect becomes even more relevant.
How involved are you with the tech side of JOE.ie, i.e. posting stories, design, HTML etc.?
We have our own team of designers here and they are deserving of all the credit for how the site navigates and looks. Myself and the rest of the editorial team do, however, write and source pictures and upload our stories.
Do you think that having some of these more technical skills is becoming more important for journalists?
Having computer skills that go beyond Word and Google is increasingly important, and that's not just for purely online publications.  The two jobs I had before this one involved uploading stories to the web, editing pictures, etc., and they both had print editions. These types of skills are becoming a must-have at this stage.
Do you feel that working in the media has become tougher over the past two years?
I was working abroad up until about a year ago and it was a bit of a shock to see the extent of the downturn when I came home, and the media industry didn't escape. Companies were cutting costs, publications weren't getting the advertising sales and a lot of jobs were lost. There has always been huge competition for jobs in the media, but it has got that bit tougher of late. I do think that there are signs the economy could be about to turn the corner so, with a bit of luck, there's a growth period ahead for the industry too.