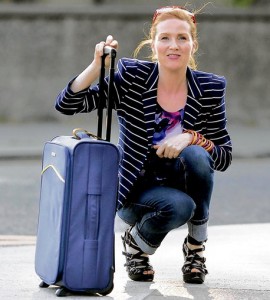 Alanna Gallagher is a freelance journalist who contributes to publications such as the Irish Times and Sunday Times. She has also recently started her own weekly e-zine, The Weekly Edit, which gives Alanna's top picks in fashion, beauty, interiors, and things to do that week.
Alanna talks to us about how she got into journalism and gives us some tips on how PR practitioners can make life easier for busy freelance journalists. Surprisingly many still just don't get the 'relations' part of 'media relations'!

How did you get into journalism?
I fell into journalism. I studied fashion design and marketing and got asked to write an opinion piece and it grew from there.
How did you come to be a freelance journalist?
I was founding editor on Confetti and then Prudence magazine, setting both up for Dyflin Publications who also publish House and Home magazine. I had spent four years in set up mode and wanted a change of pace.
What do you most like to write about?
I enjoy features, interviews, observation-led or trend pieces – anything that has a bit of currency to it.
What does an average working day in your life look like?
I work from home so I'm up early to get my son to crèche and then return home to start making calls and chasing people by email. My working day usually starts at 8.30.
What are the biggest challenges facing you as a freelance journalist?
Being freelance is a feast or famine existence. Sustaining your work levels and trying to do all the work that is commissioned. Saying no to work is not really part of your vocabulary.
How important to your job are PR practitioners?
PR practitioners who deliver on what they promise and furnish you with imagery that is suitable for print are worth their weight in gold. Imagery is often not considered a big part of the job but if you work in lifestyle journalism the pictures have to paint 1,000 words.
What are your pet peeves when it comes to approaches from PR practitioners?
Practitioners who promise something and it fails to happen- often they go to ground and fail to return calls instead of standing up and telling you what's going on. These things happen all the time – it's the nature of the business. Just communicate with us and we can move on – you're in the business of communications and we're adults – we can take it.
What are the elements that make a good pitch for you?
The pitch has to be able to stand on its own two feet. This is not an ad, it is editorial and as such needs to offer the reader something.
How important is the press release to you?
Vital – as long as it's short and ideally in the email rather than an attached document. I know it doesn't look as good from a brand's perspective. For a journalist it saves having to take the time to download it, then open it to see whether the information is relevant or not to what you're doing.
How can PR practitioners make your job easier?
Deliver on what they say they will and deliver interview details and imagery on time and on format. The press/pr relationship is symbiotic and we should be making each other's lives easier rather than creating more work for each other.
What kind of pitch angles resonate most with you at the minute?
Short, succinct and pitches tailored to a particular publication rather than a blanket release that is going to be everywhere. Selectiveness and exclusivity are important.