A bespoke survey commissioned by BBC Worldwide, the BBC's commercial arm, between January and February 2012, and conducted by independent research agency Sponge It, reveals a huge appetite for digital news consumption amongst people in Ireland.
The survey, which will be unveiled in Dublin today in association with Adforce.ie, BBC Worldwide's advertising sales representative in Ireland, investigates the relationship Irish consumers have with different digital news media outlets and how consumption has changed with the advent of new digital platforms for accessing it.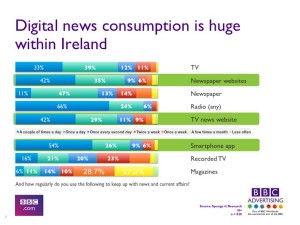 Newspaper websites (59.9 per cent) now beat their hard copies (57.4 per cent) as a source for news and current affairs. TV however still dominates as the main source of news at 63 per cent with breaking news and sports the main drivers of content consumption for respondents.
With regards to the frequency of news consumption, online platforms are in the driving seat. To keep up with news and current affairs 54 per cent use smartphone apps more than a couple of times a day followed by newspaper websites at 42 per cent and TV websites also at 42 per cent. The only traditional channel to beat these is radio with 66% of people tuning in a couple of times a day. This compares to 33 per cent for TV sets and 11 per cent for newspapers.
Isla McLeod, Digital Sales Director, EMEA Markets, BBC Worldwide said, "Today's results are a great indication that news consumption in Ireland is in robust health, and that consumers appreciate the traditional print outlets for news as well as the new digital platforms. These are welcome results for advertisers looking to reach this highly desirable audience."
The survey also reveals our love for gadgets- 83 per cent own a laptop, 64 per cent a smartphone, 50 per cent a games console and 21 per cent a tablet computer. 86 per cent have broadband internet access.
News consumption through online video sources has now become the norm with 56 per cent citing this as something they do regularly. Breaking news and sports are amongst the main drivers of content consumption for respondents.
With regards to where media is consumed newspapers are popular in the home (99 per cent) or at work (42 per cent) with radio taking much more prominence while travelling (45 per cent). Portable audio devices follow a similar trend but can also be associated with down time (28 per cent). Smartphones are the device most diffusively used at all occasions in the day.
Kevin Foley, Commercial Director in Adforce.ie said, "Given the specific Irish statistics contained in this survey and the correlation with both digital and media consumption we believe this information will generate a strong interest in the advertising market in relation to digital news media outlets and the differences in reach between them."
The findings also outlined the importance of tailored content for different platforms – TV, online, mobile and tablet computers. 7 out of 10 respondents believe having content optimised for their choice of device is important, with the majority (75%) accessing news content on laptop devices.
When visiting websites for news RTE.ie (74 per cent) is the most popular choice followed by BBC.com (53.5 per cent), irishtimes.com (41.4 per cent) and independent.ie (34.9 per cent).
For sports news RTE (47 per cent) is the most popular choice but only by a narrow margin. The BBC comes second (38 per cent) followed by Sky News (21 per cent) and The Irish Times (18 per cent).  The same order of popularity applies when it comes to ownership of smartphone apps for these media organisations.
When it comes to the origin of content, RTE is the clear leader in driving local news while the BBC is seen as an international content provider.
Editor's Note: The Survey polled 828 people throughout Ireland and was conducted in January and February 2012 by research agency Sponge it www.spongeit.ie
About Adforce.ie
Established in 2009, Adforce operates Ireland's only multi-platform advertising network.  It provides a single point of contact for media agencies and brands wishing to buy advertising across mobile Internet websites, mobile applications, social media platforms and digital video.   The network includes a number of the most visited mobile Internet websites and applications in the Republic and Northern of Ireland.
For publishers, Adforce offers a sales arm to ensure their sites and apps are part of a brand's advertising budget.
Adforce is part of the Irish digital communications company Digital Reach Group  (DRG). More information can be found at www.adforce.ie