The Digital Marketing Institute's Mobile Marketing Conference yesterday turned out to be a great day with some excellent presentations and networking opportunities.
Bvisible talked to many attendees, exhibitors and presenters and their opinions and knowledge of the mobile marketing sector is hugely encouraging. There is no doubt about the rapidly growing power of mobile and the many challenges but very exciting rewards it can offer.
The conference was a top trending topic on Twitter with attendees proving many of the points made by the speakers as they multi-screened during the day passing on interesting snippets by mobile.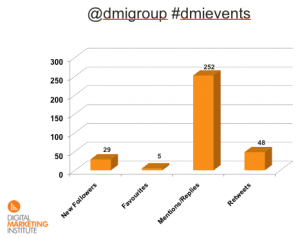 There is also a 'twumour' (that's a Twitter rumour) that a few marketers were so impressed by Mark Schaefer's presentation that they immediately got Mark Schaefer tattoos after the event. To those people, we hope you spelt it right and if you can send in a pic there could be a prize for you – some laser surgery perhaps.
Not only were we encouraged but we were also really inspired. So here's a selection of some of the great takeaways:
- Responsive Web Design will be key for all companies in 2013. So make sure your website provides an optimal viewing experience from any device – easy reading with minimum scrolling, resizing and panning. Hint: Check this website on another device and you'll see how it resizes to fit. We think it's worth boasting that we're possibly one of the few PR companies that's 'ahead of the curve'.
- Wolfgang Digital uncovered how most mobile purchases happen between 7pm and 10pm.  Also 'if you've only a small Google Adwords budget spend it on iPad," said Alan Coleman.
- Mark Schaefer, named by Forbes magazine as one of the Top 50 social media influencers in the world, reinforced the need to keep your social media marketing personal. People buy from people and the digital era doesn't change that. "Return to intimate engagement," says Schaefer and get to know really know your customers online.
- On the same subject of personalisation Jeetu Mahtani, MD of Hubspot, gave some great inside secrets into how Hubspot builds leads for its business – truly practicing what it preaches using the tools from Hubspot that allows them to get close to their customer through inbound marketing.  He demonstrated how this can reduce the cost of a lead by a whopping 61%.
- Games Entrepreneur and investor (and one of our favourite people at the moment), Dylan Collins revealed some really interesting stats like how 80 – 90% of revenue from gaming comes from 0.5% of users. And how the company behind Angry Birds made dozens of other games before hitting on success with Angry Birds.  So 'Failure is Good' says Dylan.
Conference attendee Lorna Lee and social media voice for discoverireland.ie shares her takeaways with us.
If you were at the event we'd love to hear what stood out for you besides the great popcorn, DoneDeal.ie T-shirts and the 'sagging testicules' uncovered by Alan Coleman – the search phrase that is.