As many raise their glasses this Sunday to celebrate St Patrick's Day a lastminute.com survey offers a sobering statistic for hotel owners welcoming guests to the capital this weekend.
According to global survey of 500 hoteliers 84% admitted to having had guests refill used mini-bar bottles with water in an effort to dodge mini-bar bills.
Judging by the prices charged for drinks in some locations these bills can stack up fairly quickly. And while many have come to accept that you'll pay through the nose for a mini-bar drink the survey reveals vast differences in prices worldwide.
While Dublin hotel prices come mid-range for most mini-bar drinks prices, we are second only to New York when it comes to the top price paid for a bottle of wine from the mini-bar.
The Dearest and Cheapest for Mini-bar Drinks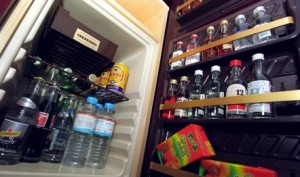 - A bottle of water costs six times more in Geneva than Prague while you'll pay 3,500 per cent more for a small bottle of champagne in Kuala Lumpar versus Budapest.
- Small bottle of wine: New York takes top spot charging €31 while hotels in Prague will only charge you €1.59.
- A five star hotel in Dublin is also high on the pricing stakes at €30.
- Bottle of beer: The most expensive location for a bottle of beer is Venice where it will cost you €12 with Madrid coming in the least expensive at €1.  Dublin five star charges a mid range €6.50.
- Bottle of Water: Expect to see €6 on the check-out bill in Geneva versus 99 cent in Prague.  €4.50 is the price you'll pay in a Dublin five star.
- Champagne: The highest you'll pay for a small bottle of bubbly is €128 in Kuala Lumpur. A bit of sparkle in Budapest costs only €3.60. €53 is the price you'll pay for a bottle of champagne from a mini-bar in a Dublin five star.
- Coca Cola: Enjoy a coke in Venice for a whopping €10.00 but pay only 99 cent in Prague
Mini-bar prices around the world
Drink                                                                                          Lowest price                       Highest price
Small bottle of wine                                                        €1.59 in Prague                €31.00 in New York
Bottle of beer                                                                    €1.00 in Madrid               €12.00 in Venice
Still & sparkling water                                                    €0.99 in Prague               €6.00 in Geneva
Small bottle of sparkling wine/champagne              €3.60 in Budapest          €128.00 in Kuala Lumpur
Coca Cola                                                                          €0.99 in Prague                 €10.00 in Venice
Mark Maddock MD of lastminute.com for Ireland and UK commented on the survey,
"lastminute.com brings our customers luxury for less when it comes to hotel accommodation. However, mini-bar prices are regulated by the hotel so it is well worth checking the cost before indulging in a mini-bar drink. We believe our customers will benefit from our mini-bar pricing index and not be surprised by the bill upon leaving the hotel."
Editors Notes:
About the survey:
For the lastminute.com 'Hotels Secrets' survey the travel and leisure specialist questioned 500 hoteliers around the globe during summer 2012. The survey was conducted using an online questionnaire.
About lastminute.com
Online hotel, travel and leisure specialist www.lastminute.com launched in Ireland in 2004 and boasts over 160,000 visitors to the Irish website each month. The company offers flights from each of Ireland's six main airports and sells hotel rooms from over 80,000 hotels worldwide, including 900 in Ireland.