Irish Independent
The Irish economic crisis has led to a huge drop in the standard of living. Eurostat findings show prices are 31pc higher than the EU average – Aideen Sheehan. http://tinyurl.com/33e2x4y
The success of 'The Tudors' and 'The Secret of Kells' has been central to a record year for the Irish film and TV industry – Kevin Keane. http://tinyurl.com/37hd2tk
The newspaper industry last night claimed a €200m pot of funding from television licence fees was giving state broadcaster RTE's website an unfair advantage – Kevin Keane. http://tinyurl.com/33wcwre
Business brain this week tells us how to keep on top of emails.
Peter Flanagan on Ireland's young, gifted graduates who are fleeing in search of work.
John Kennedy looks at the industries of tomorrow that will put our economy back on track.
This month's Digital Ireland supplement includes an announcement of cloud-computing company Dediserve's acquisition of NI hosting firm Aventurehost.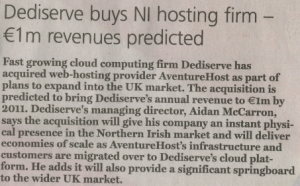 Irish Times
The website of the Swedish prosecutor's office, which was behind the arrest of Julian Assange, founder of WikiLeaks, came under cyber attack during the night and was out of action for about 12 hours. A British court will decide whether Mr Assange can be released today on bail. – Reuters http://tinyurl.com/2btlz73
Researchers in Dublin analysed a sample of 70,000 tweets in real time during the X Factor to gage public sentiment. One Direction were neck-and-neck with Matt until they were evicted. – Radar http://tinyurl.com/26yjeuj
Limerick-based comedy duo Rubberbandits might make it to Christmas number one with their song 'I've got a Horse Outside', which has received 1.5 million hits on Youtube. – Sinead Gleeson http://tinyurl.com/2err669
Business
Irish Gross Domestic Product (GDP) per head is 27 per cent higher than the European average. – Ciara O'Brien http://tinyurl.com/254lyce
Siobhan O'Connell on the need for a marketing campaign to rebrand Ireland in Media and Marketing. http://tinyurl.com/37ax223