Irish Times: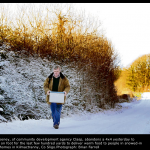 Praise for those who are looking out for their neighbours during the cold snap.
Irish students drop in rankings for literacy and maths, a recent OECD survey has found – Sean Flynn. http://tinyurl.com/2by8ynt

Anna Carey on how Twitter is turning TV watching into a communal activity, giving rise to conversations about everything from reality shows to current affairs. She asks, will it change the way TV programmes are made in the future? http://tinyurl.com/2f7z55n

Facebook plans 100 jobs in Dublin – Caroline Madden. http://tinyurl.com/25dt4xm

Budget 2011 explained in a special supplement.
Irish Independent:
Graduate teachers face biggest test as 'lost generation' goes from scroll to dole – Grainne Cunningham. http://tinyurl.com/2d2tl26

Irish obesity levels in Ireland amongst highest in the EU – Eilish O'Regan. http://tinyurl.com/363eo2n

Children with TVs in their bedrooms fare worse in recent OECD survey on education – Katherine Donnelly.
The Independent also features a special Budget 2011 supplement.