The media are always hungry for nuggets of new information. One way to get their attention is to hook your release on to a hot news topic of the day. The other is to be the hot news topic of the day.
This is where surveys come in. Done well and combined with a dash of creativity they provide useful news to the media, helping secure great coverage for your brand across the biggest national newspapers and radio stations in the country.
At Bvisible, we've conducted a number of surveys for our client lastminute.com with some great results.
Your Cheatin' Heart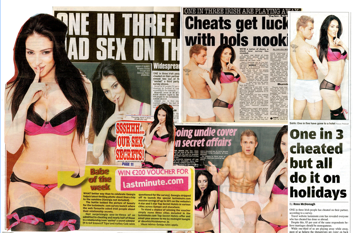 In April 2010 we kicked off a campaign for their  'Top Secret Hotels' offer of up to 50% off 4-star and 5-star hotels with a survey we called 'Your Cheatin' Heart'.  This looked at the relationship secrets lovers in Ireland were keeping from their other halves. With stories flooding the media on Tiger Woods and Ashley Cole's infidelity we thought this might tap into the national mood and it turns out we were right.
The survey revealed that one in three Irish people have cheated on their partner and 71 per cent thought cheating was commonplace.  And just in case this wasn't controversial enough, we threw in a photoshoot with top Irish model, Georgia Salpa, to make sure that we caught some attention.
The survey made the front page of the Irish Daily Star and featured in the Irish Daily Mirror, the Sun and the Metro Herald, which have a combined daily readership of 324,189. We also landed a number of national radio station interviews, including 2FM and Newstalk.   The campaign delivered a total PR value of over €125,000 for a fraction of that in spend.
The Dream Celebrity Holiday Partner Survey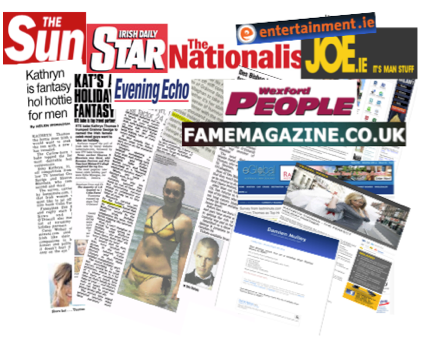 To round off the blitz of summer 2010 deals from lastminute.com, we asked people which celebrity would be their ideal holiday partner. Travel expert Kathryn Thomas beat Miss World, Rosanna Davidson as men's top choice  and women opted for reformed bad boy Colin Farrell.
Again there was a great media response to the survey with 31 articles and radio mentions, reaching over 390,000 people and delivering a PR value of more than €112,000.  Highlights included coverage on seven national and regional radio stations, a range of national newspapers, including the Sun and the Star, as well as a range of websites and influential bloggers.
Christmas Cracker
In November, we capitalised on festive fever with our Christmas survey, which packed in questions on everything from Christmas markets, to New York shopping trips and plans for Christmas day.
It revealed that Irish people are making a welcome return to traditional values, abandoning the cash-flashing ways of the Celtic Tiger era and putting friends and family first.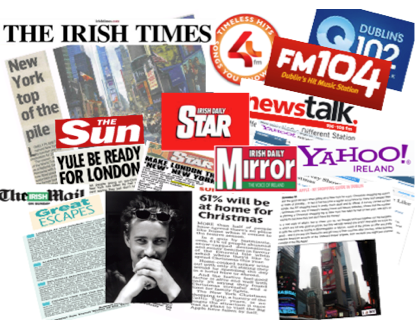 The survey was covered by six national newspapers, four radio stations, two key travel journalists, one TV show and a partridge in a pear tree….ok maybe not the last one but we were pretty happy with the rest.  A total of 22 media items reached 533,700 people and had a PR value of over €137,000.
To wrap up
In total the three surveys had a very substantial PR value of €374,000.  More importantly, they have delivered strong brand recognition for lastminute.com in Ireland, as well as significant annual increases in website traffic and bookings.  On one occasion a 400% increase in bookings on lastminute.com was reported in the weekend following one of these media campaigns.
We have also very quickly managed to attain that important objective every PR agency strives for with a client – to have the media come to us with enquiries.  We've kept the brand front of mind and, by issuing some newsworthy nuggets of information – whether it's a quirky survey or some great deals tied to the news agenda – travel journalists are coming directly to us requesting information on lastminute.com.
Of course our notable charm and wit helps too!