Bvisible is supporting 'Local Newspaper Week' by giving you an insight into the life of a local paper editor.
Katie Mythen is editor of The Cork News and took time out of her busy schedule to answer a few questions on how she became interested in journalism and what her day can entail as editor.
This is her story…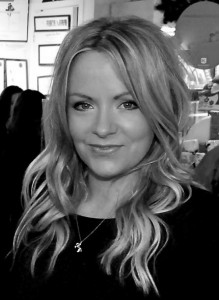 1. You're the editor of The Cork News – how has your background led you to this position?
After school I took a one-year Media Production course with the aim of exploring a degree afterwards. During my work experience stint at a local newspaper I was offered a full time position so I decided to go for it. I learned more in that job and in a number of newspaper and magazine positions afterwards than a college course could ever have taught me so it was the right move.
Later on I was involved in setting up and producing a number of magazines, both local and national but I always saw a lot of potential in newsprint so I was over the moon to be given the opportunity to help create a brand new newspaper for Cork.
2. Did you always want to be a journalist?
Yes. When I was seven I was taken to see the movie Teenage Mutant Ninja Turtles. One of the characters, television reporter for Channel 6 News (headstrong bad-ass and friend of the Turtles) April O'Neil was early inspiration!
3. What aspects of journalism do you love or hate?
It's weird but I've always loved working to strict deadlines, there's a sense of achievement that comes with finishing a tricky project on time that I think I'd really miss if I was working in another industry. Plus it stops you procrastinating.
There's nothing I'd say I hate, every day is different so there's always a chance for a fresh start.
4. What highlights have you had as editor of the Cork News?
Getting the paper off the ground was incredible. The whole team worked night and day to make it happen because it was something we believed in. To dream up a concept and turn it into something tangible is something everybody should experience at least once in their lives.
Another highlight was when The Cork News was recognised in a number of categories at the European Newspaper Design Awards. As design nerds, myself and Johnny (Lynch, Head of Design) had always had a huge amount of admiration and respect for previous Newspaper Design Award winners, so to be recognised among them was surreal. It was confirmation that we were on the right track.
It was also a great moment for Cork because it showed that the city is as good a base as any for a new and exciting media company. It proved you don't have to move to Dublin, London or New York to be involved, you just have to make it happen.
5. What is the best part/feature of regional journalism?
While most Irish cities and towns have changed beyond all recognition in the past 20 years, but it's easy for local newspapers to get stuck in a time warp when it comes to content and design. For me, the best part about working in regional journalism right now is having the opportunity to update a medium for a new generation. Good design is the key to helping readers reconnect with local newspapers.
Our readers have responded to the Cork News because it showcases Cork as the creative, vibrant place that we've always known it is.
I also love the fact that, day to day, we get to choose who gets the spotlight. There's huge scope to give some amazing people the recognition they deserve.
6. What journalists are you a fan of?
How long do you have? The list is endless and growing every day.
7. Are you still involved in writing as the editor – if not do you miss that aspect?
I love writing so I work on a number of our lifestyle sections and special supplements. I do miss news reporting, there's nothing like getting your teeth into a really great news story and following it through, but I do get to experience a bit of that excitement on deadline day.
8. Do you deal with PR agencies on a daily basis?
Yes.
9. What are your pet peeves when it comes to dealing with PR agencies?
Phone calls following up on blanket emails are the worst. If someone has a specific angle they think might work for us I'm more than happy to discuss it but those 'did you get the email I just sent' calls are just a waste of time, especially when you get ten of them a day!
10. What are the elements of a good pitch for you?
We can tell when somebody has taken the time to really look at the Cork News because they'll usually suggest an interview or a story that suits our style. It's also really obvious when someone hasn't bothered to read the paper.
11. How can PR practitioners make your job easier?
We're always looking for a quirky angle, an amazing image (old or new) or an unusual or slightly offbeat interview. Anyone who can help us find any of these things is a star in my book!
12. Do you look for pitches to have a regional angle or are you happy with national focused stories?
For us the regional angle is key. Regional newspapers offer a unique insight into what's happening in the community. We don't just highlight what's going on, but also how you can get involved or make your opinion and views heard. We also showcase new businesses and local entrepreneurs who are often left out of national coverage.
13. How important is the online version of the paper? Has the editorial role changed to cater for an online audience?
The online version is very important. People like to get their news fix in different ways so it's important we respect that and try to make it as easy as possible. It's also a convenient way for people to share something they've read in the newspaper and comment on the stories that matter to them.
It's a work in progress but the latest developments to the website have saved us a lot of time we used to spend searching for back issues. These days if someone is looking for a particular story or feature every page we've published is available to download as a PDF from the site.
14. What advice would you give any young journalist starting their career in regional journalism?
I would advise anyone starting out in journalism to read as much as possible, then just get out there, pitch your ideas and look for as much work experience as you can handle. Don't expect people to babysit you in the office; spend all your spare time uncovering your own news stories and writing your own features. Pick up the phone too, you'd be surprised how many experts, celebrities and business people who are at the top of their game are actually quite happy to help you out with a quote or some research for five minutes.
You also need to be enthusiastic about working in any section and writing on any topic. Everyone wants to be a travel writer!