Buying Xbox games and upgrades just got easier in Ireland and the UK. As of today, customers will be able to purchase games and downloadable content (DLC), pay to rent movies on demand and buy Xbox LIVE Gold Subscriptions and Points via their mobile phones.
Initially available in Ireland and the UK, the service, known as buygamepoints.com comes from Irish company Phonovation and will allow gamers to charge Microsoft Points and Xbox LIVE Gold Subscriptions to their mobile phone accounts. Until now the only way to purchase these was through specific retail stores, or by setting up your account with a credit card.
As well as eliminating the need to visit the high street shops, the service will open up the market to the millions of people in Ireland and the UK who either don't have a credit card or prefer not to purchase items on credit.*
The service is currently available to contract or pay-as-you go customers of O2 and Vodafone in Ireland and all networks in the UK.  In July it will extend to mobile phone users in Germany, Czech Republic and Spain.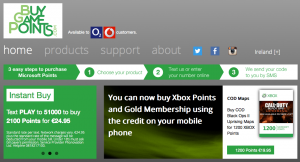 buygamepoints.com offers two simple ways to purchase the access code required for Xbox LIVE Gold Subscriptions and points:
- Send a standard rate SMS to 51000 (Ireland customers)
- Visit buygamepoints.com and enter your mobile phone number (UK and Ireland customers)
The payment request is then relayed through Phonovation's 'MCharge' platform and – within a few seconds – the customer receives their Xbox activation code.**
An Xbox is more than just a games console, with customers using the machine to play games, listen to music, surf the web and watch movies. With more ways to enjoy the Xbox than ever before, we believe that this is a good time to make payment easier too," says Gavin Carpenter, Sales Director of Phonovation.

Customers without credit cards, or those who don't want to use their credit card, will be able to purchase Xbox LIVE Gold Subscription and Xbox Microsoft Points quickly and securely from their handsets without having to leave the house."
The following costs apply to points and Gold subscriptions:
Ireland:


- Buy 800 Points for €10.99 by texting 800 to 51000 or visiting gamepoints.com
- Buy 2100 Points for €24.95 by texting 2100 to 51000 or visiting gamepoints.com
- Buy 3 Months LIVE Gold Subscription for €24.95 by texting GOLD to 51000 or visiting gamepoints.com

Additional notes:

- * 56% of the Irish population doesn't have a credit card (Central Bank, Feb 2013) while that figure is 65% in the UK.
- ** MCharge is Phonovation's Direct Operator Billing (DOBT) platform  that allows it to access and interact with fixed and mobile carriers billing systems in order to directly bill telecoms consumers for products and services.
- DOBT allows companies to charge for their product or service without the need for an existing electronic billing relationship with the consumer.
- The combined market of 45.3 million consumers (across Ireland and the UK) is the addressable market for Phonovation's mobile payments service in Ireland and the UK. This figure will rise to 104 million by July 2013.
- There are in excess of 4.3 million mobile phone subscribers in Ireland alone, spending an average of €29 per month (Quarterly Key Data Report, Comreg. Q2, 2012). DOBT is available on 95% of these handsets.
- The UK market is considerably larger with a recorded 41 million handsets which have an ARPU (Average Revenue Per User) of £25.14 per month. DOBT is available on the vast majority of these handsets.