Hard work by the Team Sligo collective reached fruition last weekend in the shape of the Irish Times Special Report on Sligo.
The team managed to entice journalists such as Conor Pope, Frances O' Rourke, Edel Morgan and Kevin Courtney to the county to experience some of the activities, hidden gems and delightful cuisine on offer.
The report looks at family activities, culture trails, upcoming festivals: sligojazz.ie, the plethora of cafés and restaurants and sporting fun, such as Stand Up Paddling – the fastest growing water sport in the world at the moment: supforall.ie.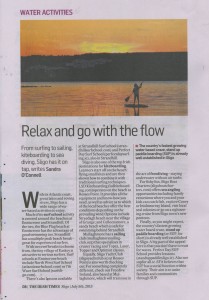 The Sligo – Who Knew? tourism campaign has enjoyed an auspicious start since its launch less than 3 weeks ago.
The campaign, novel in its digital approach, encourages locals and visitors to share their tips, recommendations, pictures and quirky facts on Sligo using the #sligowhoknew hashtag on Twitter, Facebook, Instagram and Vine.
Denise Rushe, Social Media Manager for the campaign, is overwhelmed with the response: "Locals and visitors alike are embracing the role of Sligo ambassadors by using social media to spread the delights of Sligo, whether they be stunning pictures of the renowned Ben Bulben mountain to the hidden gems of secluded beauty spots or a delicious coffee house.
"We have received well over 2500 messages using the unique hashtag, which is an unprecedented response considering the campaign has been live for just less than 3 weeks.
"We anticipate that with the height of our tourism season about to begin the rich bank of content will continue to flood in and lure visitors to the county."
With Allan Dixon, winner of the World's Best Job, as Australia's Northern Territory Outback Adventurer, on his visiting Sligo this weekk with an RTE Nationwide crew, to try his hand at Stand Up Paddling more great coverage is sure to follow.
So get to Sligo and hashtag you experiences to #sligowhoknew.